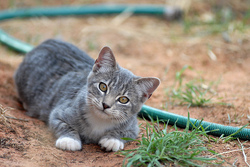 It's
National Feral Cat Day!
Give a kitty a home, feed a feral colony, donate to your local chapter of feral cat rescue, or donate to the local TNR program. Whatever you can do, please try.
No More Homeless Pets, another national movement, is really out to help us not have any more homeless animals.
The mission of the
Focus on Felines
campaign is to keep cats safe and out of shelters across the country. We partner with non-profits and local governments to help achieve a day when there are No More Homeless Pets. We implement innovative Trap Neuter Return (TNR) and educations programs to prevent ferals and strays—community cats—from entering shelters. The Focus on Felines web community is a place for cat lovers to meet, share information, and provide support and advice for TNR and community cat topics.